References – Happy Clients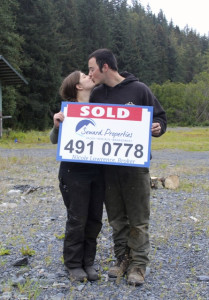 "Nicole is above and beyond in every way! She answered all our questions and really helped us every step of the way. If you are looking to buy or sell land, Seward Properties is the best real estate company in Seward, and the only option for professional service and people who actually care about the people they are working with."
~ Jason & Sierra -31623 Lois Way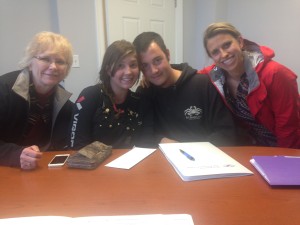 ---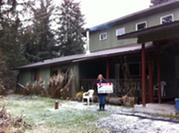 "We highly recommend Seward Properties! As first time home buyers we were very impressed. Nicole went above and beyond our expectations on numerous occasions. Her ability and willingness to tackle any problem that came up was an incredible asset. She was a joy to work with and we couldn't be happier with our experience. Thank you Nicole!"
~ Bill and Allyson Pike – 13417 Cherrywood
---
"Seward Prop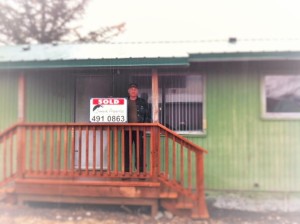 erties is the best real estate company in Seward.  You, Callie went above & beyond your call of duty.  Ralph & I both loved working with you!  You are professional, courteous, prompt returning calls, very informative, and helped us to understand the process and what was going on at all times. We felt comfortable we could call upon you at any time."
~ Jan and Ralph Morehouse – 708 5th Ave
---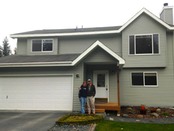 "We appreciate all of your hard work on helping us find our home here in Seward. I felt you put up with us chasing the elusive perfect fixer upper. I felt you cared about our needs and help guide us toward what eventually became our place. We miss the hunt but are enjoying making the place ours."
~ Ricky and Nancy Deel  – 2019 Olympia
---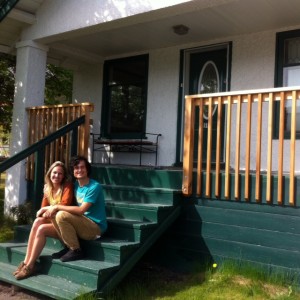 "Callie and Seward Properties were professional, informative, friendly and positive throughout this experience. They went above and beyond and were very present for every step of the way- literally on the ground helping me get work done before deadlines.  Callie did an incredible job of remaining professional while at the same time recognizing how personal the experience of buying a home can be.  It felt like it was as important to Callie as it was to us for everything to work out, and she helped us jump every hurdle that stood in the way.  Callie was available to field all of my texts and phone calls. She talked me down in moments of slight panic, and never made me feel like I was overreacting.  I was so impressed with every effort that Callie and Seward Properties made to make the whole process as smooth and positive as possible. We really couldn't have done it without them. "
~Fiona and Buddy – 519 Third Ave
---
"Seward Properties is the Dom Perignon in a market full of Franzias. Sharp as a porcupine quill, with the energy of a thousand suns, Nicole Lawrence made my real estate experience straightforward and, dare I say, enjoyable. If you prefer a muddled, painful, and confusing home purchase, this is Not the realtor for you. But if you like the idea of a tireless advocate who will provide you with the best possible outcome, there is no higher recommendation."
 ~ Dan Linkhart – 336 2nd Ave
---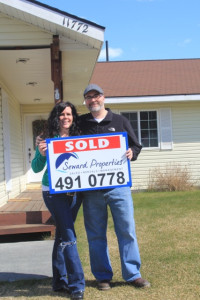 "I can't believe how easy Nicole made the entire home buying experience!!!! She was absolutely incredible from start to finish!!! She gave me a time line of what to expect and when…I was so pleased that we were able to stick to it and actually close earlier than expected. Nicole was always there when I had questions…no matter how many. And she had a way of making me feel like I was her only client. Thank you Nicole for making this the easiest home purchase I've ever had!! Your attention to detail and knowledge are superb! You are the BEST!!!!"
 ~ Heather McKean – 11772 Seward Highway
---
"My home buying experience was great.  You guided me through the entire process and took it step by step for me.  I always felt comfortable asking questions and you never made me feel as though I was nit-picking details.  As a first time buyer, the guidance that I received was invaluable.  From generating an offer to the final closing, it was very beneficial to have you guiding me through the process.  Thank you Callie for your help in making me a home owner.  It was a pleasure working with you."
~ Peter Shipton – 33480 Winterset Circle
---
"Ni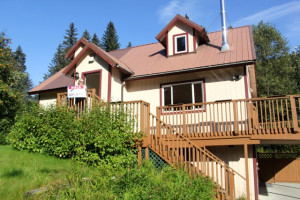 cole was on top of every process of the buy and close of the deal. From late nite e-mails to early phone calls. She constantly pursued a non-responsive selling agent. She made the whole experience of buying from out of state very easy and informative."
~ Joan and Doug H. – 34450 Vinewood
---
"I was living in Georgia and had just taken a position in Seward. I looked around and found Seward Properties and this very nice and gentle speaking lady Nicole Lawrence. Nicole and I exchanged emails and then several phone calls with the end result being I had a pl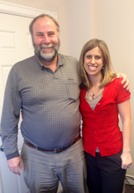 ace to live in Seward. But she took it one step further, when I needed to bring my dog up in a hurry she arranged with the owners of the apartment for me to be able to keep my dog with me. It was then time for me to find a place to call home. Guess who I called? Yep Nicole, I told her what I was looking for and she found several place that fit the bill. I selected one and the race was on to close as quickly as possible, my daughter had plans on visiting. With Nicole's help we managed to close 29 days after we started.If you're looking for someone honest, friendly, and who will listen you need to see Nicole Lawrence at Seward Properties for all your housing needs."
~ Charles Taylor – 12078 Rail Court
---
"We first began working with Nicole when she started her business. We had a home in Seward but were moving south and we could not sell it. She managed the property as a rental for five years. She took great care of the property and it was only vacant one month in that time. When other realtors in the area were unable to sell it, we asked Nicole to list it. She got the job done in a professional and competent manner. She earned our trust and I would recommend her to anyone one. My wife and I are thinking of selling our home in Idaho. I sure wish Nicole would move down here so she could take care of us again."
~ John and Janet Cote – 14812 Willow
---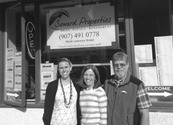 "When my wife and I decided to sell our rental condo in Seward, I asked a long time resident for the best real estate company to help us out. We were referred to Nicole Lawrence at Seward Properties. Nicole suggested the asking price, and within a very short time, a buyer offered at that price. A smooth closing followed. We value the genuine service we received and would gladly recommend Seward Properties to anyone involved in a real estate transaction in Seward."
~ Dennis and Yonnie Murphy – 1809 Swetmann #4 Sellers
---
"It has been an absolute pleasure working with Nicole and her staff!  As a long distance property Buyer, we have very limited availability in Seward, and they flawlessly handled all of the details of our property transaction.  We could not be happier with the service we received, and look forward to working with Nicole and Callie again in the future!"
~ Valerie, Peter and Divida – Advanced Physical Therapy – 1809 Swetmann #4 Buyers
---
"I am probably unusual in that I live in Florida but have owned several rental properties in Seward. Nicole managed a house I owned for several years, and now Nicole and Callie manage the off-season rentals for a small apartment building I bought in April. When you live so far away from rental property, you are completely at the mercy of your property managers, and must rely on their competency and honesty. I simply cannot say enough good things about Nicole and Callie. They put excellent tenants in the apartments, they take care of any problems that arise quickly and economically, and their management fees are very reasonable. I hope it's clear that I recommend Seward Properties wholeheartedly as the best real estate company in Seward."
~ Doug Wight – 509 Jefferson
---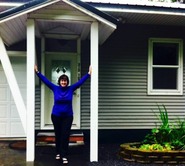 "I had such an amazing experience with your help in both selling my old house and buying the new house.  I was always a bit surprised how quickly you responded to my emails, and it was really easy to work with the online signature process whenever documents needed to be signed.  I've been recommending Seward Properties to anyone I know who is looking to buy, sell or rent."
~ Tara Riemer – 14550 Rainforest and 312 First
---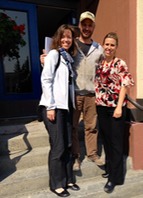 "Nicole was a joy to work with. First she was able to match us, long distance, to a great rental cabin. Then her proactive, competent, hard-working personality helped us to find the perfect place for us to buy. We could not have been any happier with how the whole process of buying a home went from start to finish. We highly recommend Seward Properties to anyone looking to rent or buy!"
~ Doug and Kris Hoftiezer – 33856 Orlander
---
"Nicole was an immense help and professional advocate in the purchase of my new home. She's enjoyable to work with and helps guide people to good decisions and solutions. He knowledge of the market is thorough, and Nicole has a great rapport with the community of Seward. I greatly appreciate her follow-up with the bank requirements. Nicole's estimates of closing costs will likely be more accurate then the lender's good faith estimate. Nicole is very proactive throughout the home buying process. She aggressively "opens every door" so that her clients can evaluate all the available options and make a good decision for their best interest. Thank you Nicole for your hard work in managing my home purchase this fall!"
~ Richard S. Wise – 14593 Rainforest Circle
---
"We are very fortunate to find a realtor like Nicole.  She went above and beyond to help us find the right property.  She is very personable and professional.  We only had a few days to look while visiting friends in Alaska and still managed to find the right piece of ground with her expertise, hard work and dedication.  We recommend Seward Properties without hesitation. "
~ Shaena, Andy and Samantha Ivey – 10716 Johnson
---
"I want to thank Nicole Lawrence and the team at Seward Properties for their dedication, determination and professionalism while working to get my property on the market and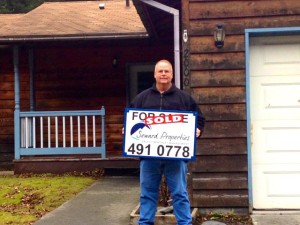 sold. Nicole worked very hard and jumped some interesting hurdles to help me with this sale. Thank you so much and I would recommend Nicole and Seward Properties any day! I will miss Dora Way but I am excited to start the next chapter in my journey!"
~ Melannee Stevens – 1907 Dora Way
---
"My husband and I could not be more pleased with the service we received this past summer  at Seward Properties from both Nicole and Callie.    They were professional and friendly and worked very hard for us.    We can't thank them enough!"
~ George and Amy Fogle –  336 2nd Avenue
---
"For several years we had tried to sell my mothers house in Seward. Then this past summer 2014 we met with Nicole and Callie of Seward Properties, the best real estate company in Seward. I thank them for their professionalism and guidance in listing the house. Even living out of town they stayed in contact with us and led us through the process to a successful sale. I would highly recommend them to anyone that has property in the Seward area to rent or sale."
~ Marge Blankenship – 33961 Romack Ct.
---
"Nicole did an amazing job helping me to buy my little dream home. She's a phenomenal woman."
~ Kayce J. – 32310 Blying Sound Dr.
---
"My input would be the insight you seem to possess  about "matching" renters with property owners.  (you weeded out those you thought wouldn't work well for us) Word of mouth is an asset in this small town since my brother, who lives out of state, used your service and was pleased.  I saw your initial ad in the local newspaper and recommended that he give you a call.  He was quite impressed with your proficiency.  When I had the need to find a renter, and after all my efforts failed (!), I turned to your services and was happy with the results."
~ Kathy Bingman
---
"I have enjoyed working with you the last two years. I can say, without any hesitation, that you are the best property manager we have had in Seward. In a small town, it is difficult to find a quality property manager. We went through two before we found you. You have done an outstanding job keeping my condo rented in a difficult situation. Thank you very much."
 ~ Kenneth Blanford
---
Thank you for caring for my commercial properties with such excellence and innovation. The way you have obtained tenants in and out of tourist season has exceeded the results I would have had even if I were in Seward. There are many occasions when you have gone the extra mile to hire repairs at a good price and negotiate through difficult situations. The service you have given me has been outstanding."
 ~ Karen Ann Clark
---
"Nicole and Colby started managing my 4-plex this summer (2011), and I couldn't be more impressed and satisfied with their performance. In this short time there have been several major incidents occur, including severe wind damage from a very large falling spruce. Colby had a crew out the next day to cut up and removed it all. Nicole coordinated repairs to one of the buildings. This was all handled with complete efficiency and professionalism. I couldn't provide a higher recommendation."
~ Ken Deeble
---
"We bought our home in Seward over a year ago and are unable to move up there at that time, we had someone living there and that just didn't work out so we decided to give Nicole a try.  It was the best decision we have made concerning our house. Nicole was able to get us fantastic Renters for both of the house. We had some water and heatng probles and she was able to obtain the best repair people and so very reasonable. We will continue to use Nicole and Colby as long as we rent out our home, as they have brought peace and comfort knowing they are looking after it."
~ Susan Buchko and Rick Spires
---
"We just finished our second winter season working with Nicole and Colby, and we already know that we will be using them again next year.  They have done an excellent job keeping the lines of communication flowing between us and the tenant, and in essence, preventing any minor issues that have surfaced from becoming bigger ones.  With Nicole's follow up and intuition about people, and Colby's know how and ability to take care of minor maintenance issues, I know my house is taken care of with the same level of care that I would provide."
 ~ Michael Frieser at Seward Bayfront Cottage
---
"It has been a great pleasure doing business with Nicole.  We listed our duplex with her in 2011 and she quickly found qualified tenants and has exceeded our expectations with her service.  Which has included:  getting all of our personal effects packaged up and moved into storage, while we were out of town, as well as solving many problems that arise when dealing with Seward, Alaska's extreme weather and remote location.  We have no regrets having chosen Nicole as our property manager."
 ~ Jerry and Jolene King
---
"Nicole Lawrence has handled my rental home in Seward for over a year now (2011). In fact, she just secured a 15 month renewal at a price I am very happy with. Nicole is always truthful and forthright as well as tactful and determined. These qualities combine to make her a very successful at managing information and personalities. For me this has meant my property is handled the way I want, within the realm of feasibility. I am very happy with my tenants and my home is well taken care of to my rather high standards. I very much appreciate a person who is both willing to do things my way, yet doesn't hesitate to speak up to get things to work out to my best benefit. Issues Nicole has handled with success and style: price/terms negotiations; HVAC mystery-problems; tenant utility cost concerns; hot tub maintenance; weather damage insurance claim (investigators and contractors and tenants all); for-sale/house showing issues. Nicole and Colby treat me and my home with dignity and respect. I highly recommend their services."
~ Theresa Butts
---
"I rented out my cabin in Seward with Nicole back in July 2011.  I am very happy with her service; she found a great tenant.  I was a little nervous at first, since I was moving 5000 miles away to go back to school, but she has been great – taking care of a few maintenance issues that came up,and is promptly sending me my rent checks.  I would highly recommend her to anyone considering renting out their home in the Seward area."
~ Bruce Wollison
---
"I highly recommend Nicole to anyone who is looking for headache free property management.  With thorough screening, clear communication and the ability to deal with maintenance issues Nicole has taken the stress out of owning a rental. I wish I had called her sooner!"
 ~ Heather Ronek
---
"Nicole Lawrence has been a very reliable manager for the past year (since fall 2012). It has been comforting knowing our house is being watched by someone who is honest, competent, and motivated."
~ Bob Suhanek
---
"Thanks for being our house angels!"
~ Chad and Lani Lockwood
---
"As long distance property owners it is critical that we find property managers who not only do a great job of keeping our units rented but managers we can trust.  I have been using Nicole for over a year and I cannot say enough positive things about her services. My mom (Questa Woods) owns two homes in Questa Woods Subdivision and my wife and I own a duplex that Nicole and Colby manage and we have been more than happy with our business relationship with them.  Mom's house sustained several thousands of dollars in damages and Nicole handled 95% of getting mom's home repaired and obtaining new tenants. I had very little to do in getting the house brought back to new condition. Nicole handled everything from getting the "dry out contractor" to the general contractor to do the restoration work. Everyone involved did a great job. I would give her an A+ rating. Thanks for a job well done!"
~ Richard Woods