10 Feb

Buyers and Sellers: Truths from a Captain and Realtor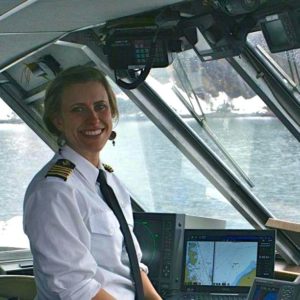 I'm on the phone with my client as she exclaims, "I'm crying tears of joy!" I can hear her voice catch over the phone while she chokes back a relieved sob. I feel like my heart will break with happiness. In that moment I am sharing my client's relief, thanks and raw emotion- and it takes some serious effort not to choke up myself.
Riding the waves of emotions with buyers and sellers throughout a real estate transaction can be intense. The days of rough seas and smooth waters are all part of the voyage. Just like my days on the ocean working as a captain for 17 years, no two voyages are the same.  Some courses are difficult to navigate, perilously avoiding obstacles and doing everything I can to avoid being shipwrecked. Those types of transactions take every ounce of creativity and persistence I can muster in order to keep them on course.
At times a transaction feels like smooth sailing on calm waters under a blue sky. My client is watching whales breach against the backdrop of glaciers, and everything is all smiles. Okay, this type of scenario is a lot less common since real estate and the ocean are inherently tricky things that often have a twisted sense of humor and love to watch our reactions when a storm rolls in. Even so, I try to take time to appreciate the sunny days – like getting a full price offer on a client's property within a week of listing it. 
There are so many different emotions that my clients may experience throughout the course of a real estate transaction, and as a Realtor, I need to be prepared with a Kleenex and a hug, or a smile and some wise advice at the blink of an eye. For my clients, there are few things that compare to the the gut wrenching anxiety of waiting to hear back about whether their offer has been accepted, the excitement and sense of responsibility when signing loan documents, the feeling of elation when their offer is accepted, and of course the relief and sense of freedom when a property sells!
As Realtors we see it all, and more than that, we feel it all. I've found that there is no way to go through the highs and lows of these real estate transactions with my clients without feeling at least some of what they're going through.  Though I may feel these emotions, it remains my job to stay on course and continue to navigate everyone to the next waypoint of the transaction.
It is an amazing thing to be a part of people's lives the way we are as Realtors. Buying, selling, moving in general – these are big moments in our clients' lives. Realtors get to be there from the hopeful beginning, through the sometimes turbulent middle, always working towards the feel-good ending. Some clients I get to see again as they become a part of our community, while with others, good bye is a little more bittersweet as they move out of state.  Regardless, I am always happy for our clients as they go on to the next step in their lives whether it is moving in or moving out. And though sometimes I miss my client as they go skipping away down the dock of successfully recorded real estate transactions, there are usually a few more people in line who are ready to set sail on the unpredictable but always adventurous seas of real estate.
The 6 Emotions That Drive Customer Buying Behavior